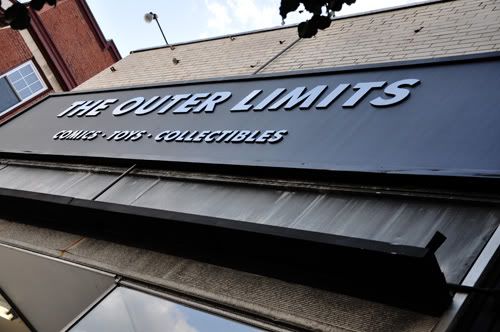 About ten minutes from Boston is Waltham, Massachusetts.  Waltham's watch factory was the cornerstone of the industrial revolution, and Moody Street was it's beating heart.  Moody Street has changed innumerable times over the years, but one iconic storefront has remained for the past 25 years: The Outer Limits comic book store.  Owner Steve Higgins has survived the abysmal sales of comics' "Modern Age".  He has seen the release of Watchmen and Batman: The Dark Knight Returns.  He celebrated the X-Men's rise to fame.  He was there for the birth of Dark Horse Comics.  He successfully moved his business a block down Moody to it's new home at number 437.  Long story short: Steve is the man.
Unfortunately, I rarely have an opportunity to visit the store myself, but whenever I do (sometimes even with an obnoxious child in-hand) Steve is extremely helpful, polite, and knowledgeable.  He is extremely down to earth and not at all pushy.  He is pretty accepting of the fact that most people are just there "to look around".  And who wouldn't?  The front window displays are adorned with all of the most popular toys, action figures and other memorabilia.  Most notably, there is a large bust of the Green Lantern who is usually all decked out in a hat or some seasonally relevant piece of hilarity. 
…But you know what?  The best part of this store actually IS the stuff inside.  Steve stocks everything from old and new comics to graphic novels to character mugs to action figures to posters to old school pop culture goodies to bona fide quality collectibles.  There is something for everyone, and you will not leave disappointed.
Visit The Outer Limits' Myspace
Category: Comics, Nerd Culture