When you go to college, you do so with the understanding that you'll have to take hours and hours of sleep-inducing history and math classes. But did you know that there are courses that not only are interesting, but that also encourage your nerdosity? Below, check out 7 college courses that help you get your geek on.
Zombies in Popular Media
Who doesn't love zombies? C'mon, you know you've spent many restless nights pondering why some zombies can run fast while others are slower than your granny. Let Columbia College Chicago help you figure it all out.
Course description:
This course explores the history, significance, and representation of the zombie as a figure in horror and fantasy texts. Instruction follows an intense schedule, using critical theory and source media (literature, comics, and films) to spur discussion and exploration of the figure's many incarnations. Daily assignments focus on reflection and commentary, while final projects foster thoughtful connections between student disciplines and the figure of the zombie.
The Art of Warcraft: A Closer Look at the Virtual World Phenomenon
Students play World of Warcraft anyway; why not get college credit for it? At Oberlin College, you'll learn why you want to keep leveling up your paladin as well as why you don't mind Blizzard sucking away your money and your soul.
Course description:
This course looks at virtual world through an academic lens. We begin the academic section by defining and identifying the essential features of modern virtual worlds, how they originated and how they are expected to evolve in the future. The focus will be on the subcategory of virtual worlds known as massively multiplayer online games (MMOGs). We will discuss why the majority of successful online games are role playing games and how that has influenced their design. The second section of the course will address the internet gaming community, the challenges of operating a mmog, virtual property and civil rights, emigration to virtual universes, and related topics. The final section will examine the incentives used to keep the player base active in World of Warcraft and how they are used effectively.
The Physics of Superheroes
When Superman darts through the sky, don't you wonder how he can breathe with all that air rushing at him? And what might happen if you really did have sex with a mutant? Ask these questions without ridicule in a seminar at the University of Minnesota. (No course descriptions available; only lists and media releases. See link.)
Introduction to Electronic Music
Those beeps and boops that passed for ringtones in 2002 were considered artful back in the day. A course at Bowdoin College can help you create those and other 15-second synthy-pop goodness. Pay attention, and you could be part of the next The Advantage.
Course description:
Examination of the history and techniques of electronic and computer music. Topics include compositional aesthetics, recording technology, digital and analog synthesis, sampling, MIDI (Musical Instrument Digital Interface), and computer-assisted composition. Ends with a concert of student compositions.
The Science of Harry Potter
It's no secret that many of us could tell you who each of Harry Potter's quidditch teammates were throughout his time at Hogwarts. Hey, I admit to eagerly devouring the books and movies multiple times. But is anything in Harry's world — from time travel to flying cars — really possible? Like Clarissa, a seminar at Frostburg State University explains it all. (No course descriptions available; only lists and media releases. See link.)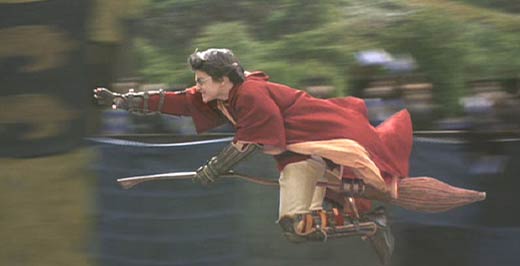 Got Blood? Vampires in Literature, Film and Popular Culture
Harry Potter was great, but what's the rage these days? Vampires. Every.Freaking.Where. From Dracula to Angel to sparkly Edward, a class at Aurora University explores the evolution of the fanged ones in pop culture.
Course description:
In the pantheon of monsters and monstrosities, few figures have the hold on our imaginations that vampires do. This course will study relevant academic criticism, historical materials, literary texts, films, and other cultural texts to examine how the figure of the vampire condenses any number of meanings, anxieties, and fears. By studying such classic texts as Bram Stoker's Dracula and a range of more modern examples, we will consider how vampires embody such themes and issues as mortality, gender and sexuality, ethnicity and assertions and relations of power.
Feel the Force: How to Train in the Jedi Way
No, the "Jedi Way" doesn't include lightsaber techniques, but the part-time course at Queen's University Belfast will try to lead you Yoda-like down a path of enlightenment and harmony. With any luck, they'll eventually include a seminar on deciphering Wookiee. If you want extra credit, make sure you wear your pimped out adidas Originals Star Wars gear. (No course descriptions available; only lists and media releases. See link.)
Note: I found these courses by running simple Google searches such as "vampire college course." Try it, and let us know if you find any other awesome classes!

Category: Nerd Culture