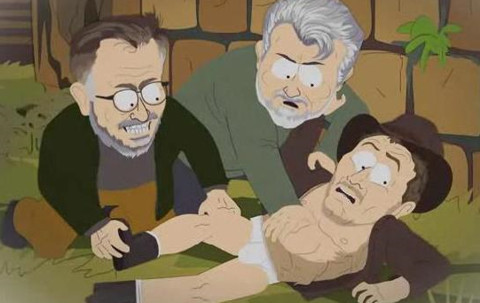 Indiana Jones and The Kingdom of the Crystal Skull was a colossal disappointment by any measure. Christ, the iconic film character deserved a lot better than that. So it goes with out saying that we fans really don't want a 5th installment to the series. On the other hand, some of us want to give George Lucas and Steven Spielberg the chance to redeem themselves and give Indy the send off he deserves. Personally I'd like to quote Mr. Henry Jones and say "Indiana.. let it go". While sayers and naysayers duke it out there are more fridges to nuke my friends, Indy 5 is happening.
Since we haven't talked about it in a while, and being that there a quite a few of you bastards out there that are a little behind on the news lets back track here for a moment and tell you what we know.
In June of 2009, Indiana Jones and the Kingdom of the Crystal Skull co-star Shia LaBeouf told reporters that Steven Spielberg had "cracked" the story for Indiana Jones 5 and that he believed "they're gearing that up." Then in August of 09  the Beouf told Showbiz Spy:
"They're script writing right now," says Shia. "I got called into Steven's office and he pitched a little bit to me and it sounds crazy, it sounds really cool."

While no official announcements were made Shia's comments were all we had to go on. That is until Harrison Ford himself reiterated the first part of Shia's previous statement, telling the BBC in March of this year that "Steven [Spielberg] and George [Lucas] and I are sort of agreed on a germ of an idea and we're seeing what comes of it."
Ford went onto to explain the process: "The process works like this… We come to some basic agreement and then George goes away for a long time and works on it. Then Steven and I get it in some form, some embryonic form. Then if we like it we start working with George on it and at some point down the line it's ready and we do it."
Now, while promoting his TV news comedy, Morning Glory, on CNN,  Ford said that "George tells us that he's working on something, and both Steven [Spielberg] and I are waiting to see." He also added that he'd "be happy to do another one if we could all agree on it and it was something that I thought was going to work."
So there you have it. It it sounds like they are only at step one. If a fifth Indiana Jones movie ever happens, it's very likely we won't see it for some time.
Category: Film