[In nerdbastards team-up with female nerd community site Nerds in Babeland Stephanie Wooten, NIB comic expert will be coming into the nerdbastards fray. She'll be stopping by every Wednesday to give you bastards the word on the week in comics. Not only will she tell ya what are the good grabs for the week, but she'll also keep you a float of all the good stuff going around the comic-book water cooler (Industry news, major story lines, etc.) She has boobs and reads comics. What more do you need to know?]
This week brought some big news from both Marvel & DC.  First off, DC announced that JMS (J. Michael Straczynski) will be ending his run on "Superman" and "Wonder Woman" halfway through his current arcs on both series.  This brought a lot of complaints from fans, in particular a lot of comments on JMS's apparent stand on graphic novels versus monthlies.  CBR posted an interview with Straczynski shortly after the announcement where he tries to explain where he is coming from.  What upsets me personally about this whole thing is that this was suppose to be the "reboot" of sorts for Wonder Woman, a DC character that seems to keep getting the short end of the stick.  You can find an excellent write-up about her situation (and a possible) solution at DC Women Kicking Ass here.
On the other side of the aisle (so to speak) we have the announcement from Marvel that there would be no more "Thor: The Mighty Avenger."  Kind of depressing given there is that major hopeful-blockbuster movie coming out soon that I imagine could have helped the comic series but, whatever.  Not a whole lot has been said yet but Joe Quesada did tweet (yes, I'm quoting a tweet): "Sorry about the TMA cancellation folks. For the record, I don't make those decisions. That said, it's a great and maybe back again someday."  Well then.  It was a great book and will be severely missed after issue #8 is released in January.
So that's just a hint of the big news from the majors but have I mentioned the Green Lantern trailer? No? I know, I know, technically for the movie section but I felt it deserved some attention here also. If you haven't watched it yet DO IT NOW (on nerdbastards), it's awesome.
Moving on…Best Grabs of the week:
I am not going to list every single comic that is released this week but I'm going to give you the highlights and this handy link to Comixology that gives you the full list.
First we have the somewhat obvious first choice, Batman, Inc #1, which will be continuation of Grant Morrison's epic current run on Batman.  The preview images are pretty awesome looking which is not too big of a surprise given the artist (Yanick Paquette).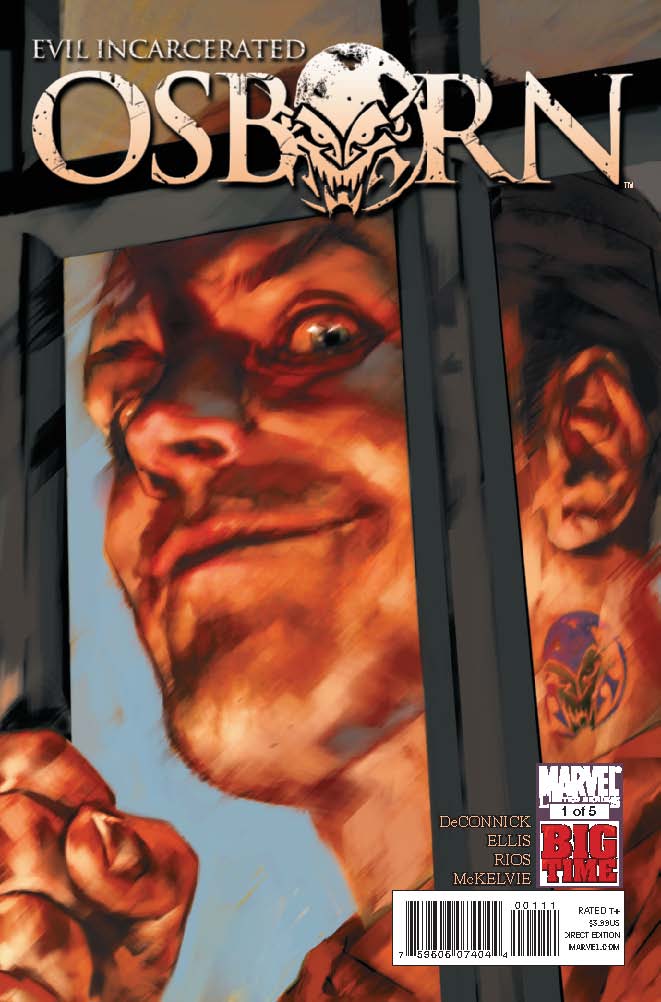 Marvel has their own big title launching this week with Osborn #1.  I'm super excited about this for tons of reasons but #1 being that I'm always excited for a female writer getting some love but then add onto that a female penciler also? Awesomesauce.  Oh, and did I mention the issue will feature a bonus story written by Warren Ellis?
The Brightest Day story arc continues in Green Lantern #59 with another little sneak peak at a member of the Green Lantern Corps in the upcoming movie.
I would be remiss if I didn't mention another big pull for the week X-Men #5, part 5 of the "Curse of the Mutants" series but honestly, even though I'm a huge X-Men girl, I haven't read this series because…vampires? I don't know. It could be awesome. I'm just not interested personally.
Now, my personal recommendation for this week (and my weekly recommendation for a comic book newbie) is actually not a monthly series but a graphic novel that I have already praised all over Twitter and Geeky Pleasures, Return of the Dapper Men by Jim McCann & Janet Lee.  You can read more about it in my review but honestly, this is one of my favorite books of the year.  It's got amazing, unique art and a fun fairy tale story that is great for pretty much anyone who likes to imagine new, more mythical worlds similar to Alice in Wonderland.  Obviously this is a very different book from all of the previous ones I've mentioned and it is more expensive ($25) BUT I have to say that it is worth every dollar (and this is coming from someone who is definitely not rolling in extra money).  Also? You get to support a smaller independent comic book publisher, Archaia, which is always a good thing.
Final note.  I think this is brilliant.  Top Cow has posted all of their Pilot Season titles for FREE online.  It's a great way to put in your two cents as to what should become a more regular series at Top Cow.  Plus, their marketing person is a super awesome nerdy girl that is begging for some ballot box stuffing ;-).