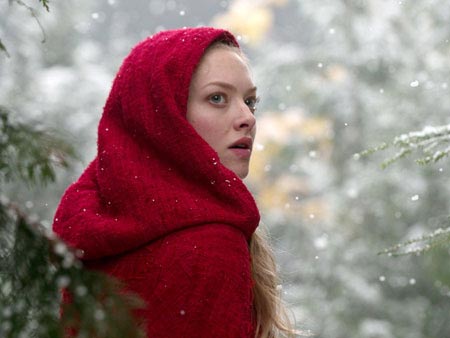 (Post by nerdbastards contributor Nick Bungay- Twitter @NickBungay)
Everyone remembers the story of Red Riding Hood, a young girl who delivers a basket of goodies to her grandmother. On her way she encounters a wolf that sneaks ahead, kills her grandmother and dresses in her clothing in order to trick Red and eat her (An average night at the house of Bungay). In the original fairy tale she is eaten and saved, unharmed along with her grandmother, by a passing hunter. Well, Warner Bros. is retelling the tale with a lot more sex and violence.
"Valerie is a beautiful young woman torn between two men. She is in love with a brooding outsider, Peter (Shiloh Fernandez), yet arranged by her parents to marry the wealthy Henry (Max Irons). Unwilling to lose one another, Valerie and Peter are plan to run away together until Valerie's older sister is killed by a werewolf that prowls the dark forest surrounding their village. The people have maintained an uneasy truce with the beast, offering a monthly animal sacrifice. But under a blood red moon, the wolf has upped the stakes by taking a human life. Hungry for revenge, the people call upon Father Solomon (Gary Oldman), famed werewolf hunter, to help them kill the wolf. But with Solomon's arrival brings unintended consequences. As the death toll rises Valerie begins to suspect that the werewolf could be someone she loves. As panic grips the town, Valerie discovers that she has a unique connection to the beast–one that inexorably draws them together, making her both suspect…and bait."
In this remake of the original fairy tale director
Catherine Hardwicke

has introduced a very dark tone to the mythos of young Red Riding Hood, renamed
Valerie for the film. He's a brief
synopsis of the paranormal romance:
and here's the trailer for all to enjoy:
OK, we promised sexy, but all you got was romance. Call us liars, but I think you can agree this not the story your mother would tell you before bed now is it? An interesting take on the story of of old indeed, but if the trailer doesn't sell you may we remind you of 2 possible saving graces. 1. Gary Oldman, the guy can do no wrong. 2. Amanda Seyfried. A.K.A. hot piece of ass, nuff said.
Red Riding Hood makes it to grandma's house March 11, 2011
Category: Film