[Editor's Note: In nerdbastards team-up with female nerd community site Nerds in Babeland Stephanie Wooten, NIB comic expert will be coming into the nerdbastards fray. She'll be stopping by every Wednesday to give you bastards the word on the week in comics. Not only will she tell ya what are the good grabs for the week, but she'll also keep you a float of all the good stuff going around the comic-book water cooler (Industry news, major story lines, etc.) She has boobs and reads comics. What more do you need to know? -Luke]
Your weekly comic update is coming to you a day late due to the holidays.  Not only does Comixology not ship out their books until tomorrow, but my own schedule is a little crazy this week in terms of catching up from vacation so, unfortunately, you're getting this late.  Additionally, this was a light week for me, so this post will probably be a bit shorter than usual.  I know, I'm full of let-downs today.  I promise more excitement next week!
First off, however, comic book news!  It was announced earlier this week that Mark Millar & Dave Gibbons (a personal idol of mine) will be teaming up for a new series in 2011.  Millar wouldn't share any information about the new title, however, saying that it would all be revealed at his recently announced UK Comic Con, Kapow!, in April 2011.
Another exciting little news bit was the release of the second My Chemical Romance video featuring Grant Morrison as a comic book-esque villain named Korse.  I am not a huge MCR fan but I am a big fan of Grant Morrison's work so these videos have been fun for me.  Regardless of whether or not I like the music, I generally like endeavors that attempt to do something different with the music video format.
Finally, Dark Horse released images of the Ryan Sook cover for BPRD: Hell on Earth: Gods #1, which included teasers of a new member for the team.  The issue is due to come out in January 2011, but CBR is set to have an interview with writer John Arcudi which will hopefully shed some light on this new character.
Now for the weekly releases!

First off from DC we have Action Comics Annual #13.  In this book we get a look at some of Lex Luthor's earlier encounters in two short stories, including one that I'm excited about involving Luthor and Ra's al Ghul.  In a similar vein, Batman Giant #1 is an 80 page book featuring seven short stories involving The Joker, the Riddler, Calendar Man, Scarecrow, etc.  Both of these books are a little pricier than average single issues but you get more so it evens out.


The DC release that I'm most excited about is the Brightest Day Vol 1 HC and the single #15.  Granted, I'll probably wait until the first volume is released in TPB form just because the holidays are coming up and I'm poor, but still! This series has been fun and I'm a huge Geoff Johns fan.  In case you haven't been following this story arc, twelve heroes and villains have mysteriously been brought back to life (shock! superheroes that don't stay dead!) and the first book is all about them trying to figure out why this went down.  This series is a follow-up to the Blackest Night series and the HC is already on the list of the top 10 pulls of the week on Comixology.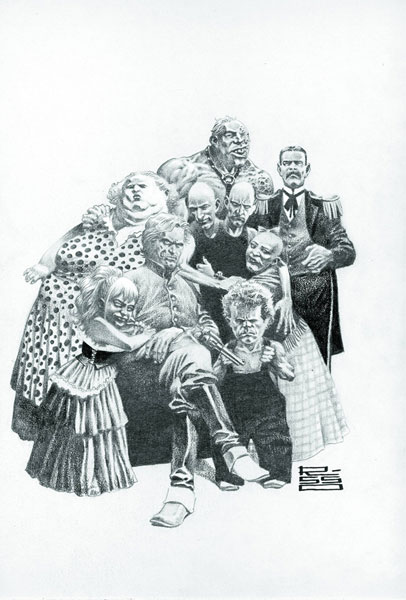 Finally, I have to continue pimping Jonah Hex.  I know the movie was horrible and should be forgotten but don't let that impact your decision to read this book.  Jimmy Palmiotti has a truly badass series here and it deserves as much love as possible.  One of the best parts of this series is the fact that you can really pick up wherever you want.  A vast majority of the stories are standalone, which means that if you haven't been reading all along you can easily pick one up and most likely understand what is going on.  Also, I am far from an obsessive Western fan (really the only Western I've ever loved is Deadwood…and that's not a "traditional" Western), but this book is fun regardless.  So seriously, give Jonah Hex #62 a chance.
Other DC pulls –
Adventure Comics #521
Batman Confidential #51
JSA All-Stars #13
Fables Vol. 14: Witches TP (MR)
Izombie #8 (MR)
Sweet Tooth #16 (MR)
Marvel:


The big book from Marvel this week is Daredevil #512, the final issue in the Shadowland Tie-In.  If you haven't been following along, Matt Murdock (aka Daredevil) has created a temple/prison known as Shadowland on the ruins of a building in Hell's Kitchen.  A full summary of all the events would take forever but, suffice it to say, crazy shit has gone down. Daredevil ends up possessed by a demon and trying to resurrect Bullseye (who has only been dead since Murdock killed him earlier in this series).  This last book (in addition to Shadowland #5 which also comes out this week) deals with the end of the arc as Daredevil must be defeated and then made to deal with the consequences of his actions throughout this series.


As a follow-up to the Shadowland story arc, Marvel releases Heroes for Hire #1 this week.  This new series written by Dan Abnett & Andy Lanning and artist Brad Walker will explore the emergence of a new team of street heroes, including Punisher, Moon Knight, Shroud, Elektra, Paladin, Silver Sable, Ghost Rider, Iron Fist and more, as a result of the events in the Shadowland arc.  That is a lot of characters to through into one series so it'll be interesting to see where they go with this.
Other Marvel pulls –
Chaos War: God Squad #1
Generation Hope #2
Iron Man/Thor #2 (of 4)
She-Hulks #2
Thor: For Asgard #5 (of 6)
Indy:


The big Indy comic of the week (at least to me) is Dark Horse's Buffy the Vampire Slayer #39.  There was a lot of talk of Buffy this week, what with the announcement of a reboot (without Whedon), but this book is actually worth talking about (won't comment more than that on the movie reboot).  It's the second to last "episode" before the finale of season 8 and is written by Joss Whedon (with art by series artist Georges Jeanty).  Spike has returned and Angel's been revealed as the "Big Bad" (aka Twilight…heh).  Super Buffy is fighting with Spike while Angel is suffering for his actions as Twilight.  Oh and everyone else is fighting demons in Sunnydale.  So, you know, a basic day for Buffy.
I'm really not sure what to expect from this new series entitled Twenty-Seven, but, as an avid classic rock fan, I felt I needed to at least check it out.  This week Twenty-Seven #1 (of 4) was suppose to come out from Image comics (however Comixology has a nice little note about how its release has yet to be confirmed).  Regardless, I'll give a little shout-out to the series.  This book is about a fictional famous rock guitarist, Will Garland, who finds himself unable to play his guitar due to a neurological disorder and, of course, he is 27.  For those who are not obsessive classic-rock fans, you may not know that Janis Joplin, Jimmi Hendrix, Jim Morrison, & Kurt Cobain all died at the far-to-young age of 27.  This book plays with this bit of trivia.  I'm looking forward to seeing if they can pull this off.

Other pulls –
The Boys #49 (MR)
The Green Hornet Strikes #5
The Darkness #87 (MR)