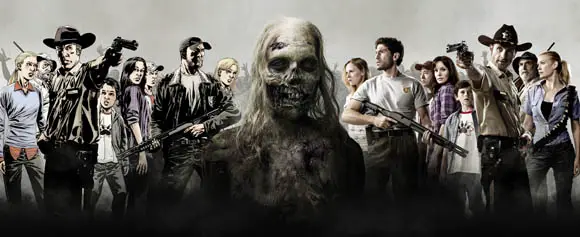 Thanks to the outstanding support from it's viewers, Robert Kirkman's 'TheWalking Dead' has ripped limbs and bitten the face off of basic cable records (that is, if basic cable had limbs and face, but who's to say it doesn't?), with the finale drawing in 6 million.
Deadline reports:
AMC's breakout hit The Walking Dead ended its 6-episode first-season run with another series high. More than 6 million viewers tuned in last night for the closer, eclipsing the previous series high of 5.6 million posted the previous Sunday. In 18-49, the finale averaged 4 million, also a new record and the highest ever for a basic cable drama series. With a series average of 3.5 million adults 18-49, The Walking Dead also has become the most watched drama series in basic cable history in the demo
Congrats TWD team! Go Zombies!
'The Walking Dead' certainly deserves such notoriety. It is, after all the best contemporary zombie thing ever!
In Darabonts (Frank Darabont) take on the apocalypse, you are there. The world is dead and rotting. The military have lost the battle. You wake up with Rick in this new world and get to explore it with him.
The plot, for the most part remained faithful to the original material while the newly added and well acted scenes contribute additional depth to even the most minor of characters. It was compelling, profound and served as an exemplary piece of social commentary.
This was a great 6 episodes and I'm looking forward to more. Next season can't come fast enough. 10 months is just too goddamn long.