Every week the internet produces an astounding amount of goodies and gems. Most hilarious, some amusing, but all worth at least a few seconds of your time. We here at Nerd Bastards try to bring you the best bits of news and nerdery the webz has to offer, with a bit of snark thrown in. But sometimes not everything makes the cut.
Every Monday (Oops, Tuesday. Hope everyone had a great Memorial Day!) we'll be bringing you our inbox leftovers, our forgotten bookmarks, the nerdy bits that simply slipped through the cracks. You can submit items to Nerdy Bits by emailing us at nerdybits@nerdbastards.com.
This week's edition: the Grillenium Falcon, Dungeons & Dragons cake, Free Portal 2 soundtrack, Star Wars in Lego diorama, DC and Chuck Taylor team up, Lt. Data; soft spoken rapper, Pac-man created with light, Star Wars in 3 minutes with action figures, Green Lantern concept art, Marvel ladies in 80s glam, I choose you, Facehugger!, Chewie Bento Box, learn Klingon, Gamestop's Batman: Arkham City pre-order bonus, smooth out 8-bit animation, shower with Droids, SNES style Doctor Who intro, Super Mario Bros. soda display, the Doctor's newest companions, Indiana Jones meet Han Solo.
Food trucks are all the rage right now. There are taco trucks, cupcake trucks, even trucks with food based on hit television series (HBO's Game of Thrones). But can those food trucks make the Kessel Run in 12 parsecs and deliver on tasty grilled cheese? (blastr)
I suspect this cake will taste ::rolls dice:: delicious. (TheMarySue)
Love free things? Who doesn't. I bet you were glued to your television for days when Portal 2 was released, too? Well then, I don't think I need to tell you much more than Portal 2's soundtrack and free. Your welcome. (GammaSquad)
Lego's are the chosen building bricks of nerds everywhere. It's totally convenient they also come in a variety of styles, like Star Wars, otherwise awesome diorama's like this couldn't be created. Jay Hoff used 30,000 bricks to make this classic scene come to life. Note, can you spot where he had to use clone troopers to fill in the ranks? (The Awesomer)
As if to give you another reason to love Chuck Taylor's,  they've partnered with DC for a plethora of great designs. Besides Joker they've got Batman, Superman, Wonder Woman, Green Lantern, Flash, Catwoman and more. I want nothing but these on my feet from now on. Sorry, Marvel (Journeys)
Take a scene from Star Trek: TNG, drop a sick beat behind it and you've got nerdy rap gold. Here is, Data's Ode to Spot, the rap. (GeeksAreSexy)
Everyone with a camera has tried this light trick, swing a light and keep the shutter open extra long and create a luminescent squiggle. But shame on all of us for not making something this fantastic. The hi-res photo, you'll thank me, is over here. (geekologie)
A truer version of Star Wars you've never seen. Remove all the dialogue (be honest, the words aren't why you like Star Wars), replace all the actors with action figures. This also wins as the most relatable Star Wars film, because, hell, who hasn't played this game? (GeeksAreSexy)
While we're all hoping this movie doesn't suck the huge Lantern balls we're afraid it might, you've can't deny all the money they poured into special effects didn't pay off. (TheDailyBlam)
You know what, the 80s Marvel ladies' outfits were rad, I'll admit it. Bring back Storm's mohawk! (ComicsAlliance)
I choose you, alien face hugger! (UnrealityMag)
Excuse me, there's something furry in my bento box. (Dorkly)
Just think, you'll now be able to include a second language on job applications. I mean, this looks totally legit, right? (ToplessRobot)
Another tantalizing tease of what we can expect from Batman: Arkham City. This though, is an exclusive challenge map called "Joker's Carnival", only available for those who pre-order from Gamestop. (ComicsAlliance)
While this clever new algorithm smooths out the pixels from classic 8-bit animation, and that is well, clever, something about this feels wrong. (IHeartChaos)
Coolest shower ever! Seriously, admire that tile work. Can't help but feel bad through for the character being cut off on the right. Is it a rebel soldier? (Technabob)
Watch an incredible opening sequence to the best SNES game you'll never play. This 8-bit gem is from the mind that also brought us an old school interpretation of Dr. Horrible's Sing-a-long Blog. (YouBentMyWookie)
And to think, people call store clerks no talented losers. I think this proves you wrong. Hi-res beauty available at Geekologie.
The Doctor really can get the best companions. In triplicate even!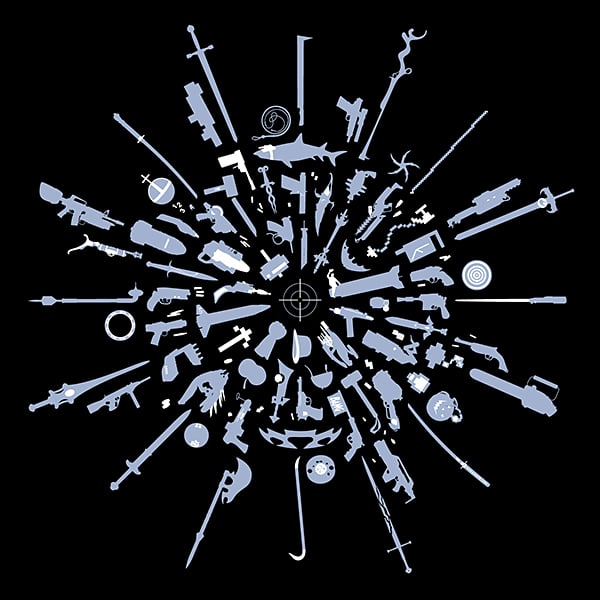 Your arsenal isn't complete without this t-shirt featuring 79 completely necessary weapons. (SuperMarqTHQ)
Having just witnessed a geeky proposal this weekend at a local convention how can I not include this awesomely adorable Super Mario Bros. themed proposal. (Urlesque)

Read the strange but true tale of when Indiana Jones met Han Solo! (ComicOrgasm)
Category: Comics, Film, Nerd Culture, TV, Videogames, WTF?