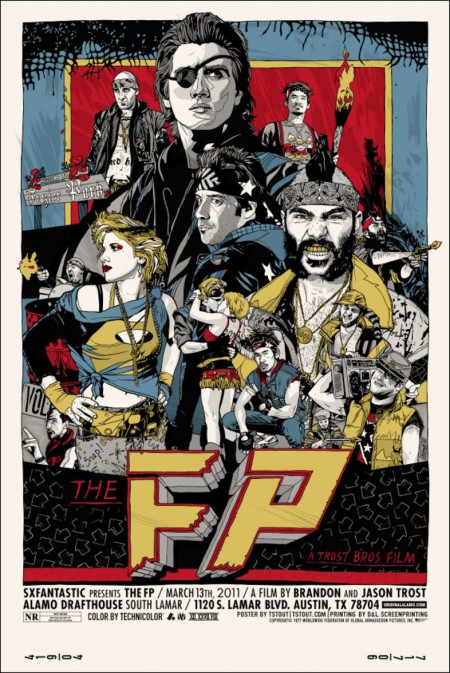 If you thought Dance Dance Revolution couldn't get any more intense, well you are wrong!  Evan Husney, whose been recently named Drafthouse Films ( an affiliate of Alamo Drafthouse), has acquired Brandon and Jason Trost's The FP, a twisted homage to The Warriors which premiered at SXSW and whose must-watch trailer is below.  The training montage in the trailer is full of references to different films that have shaped our pop-culture, such as: Star Wars, Rocky, The Karate Kid, and much more.  Check out a synopsis of The FP below provided by Drafthouse Films:
"Set in a near post-apocalyptic future, THE FP centers on two rival neon-clad gangs raging an underground turf war for dominance of Fraizer Park ("The FP") in the deadly arena of "Beat-Beat Revelation" – a competitive dance-fight video game. THE FP is a nod to '80s sci-fi/action genre fare and is directed by brothers Jason and Brandon Trost (Cinematographer, CRANK 2: HIGH VOLTAGE and the upcoming GHOST RIDER 2: SPIRIT OF VENGEANCE), and Executive Produced by Jason Blum and Steven Schneider of PARANORMAL ACTIVITY and INSIDIOUS fame. A limited theatrical release for the "rare ready-made cult hit" (Moviefone) is planned for Q1 of 2012."
WARNING: This movie trailer has langauge, and bare breasts at 2:10, so it is NOT safe for work.

Funny one-liners, random montages, and it's clean but grungy style make this an indie film, if made, will make you LOL…in your pants! Here is a list of some random/funny one liners in this trailer:
"Ill be backing your sh*t up to the end." "For reals?" "For reals."

"Damn, Sno-Co! What are you for Halloween, a bitch?"

"He wasn't expecting the unexpected! But it sure as f*ck expected him!"

"Any man can be a nigga. N, I, G, G, A. Never Ignorant at Gettin' Goals Accomplished!"

"Dance with your mind, not your feet!"

"Now you use that sh*t, J-Trow. You be all the nigga you can be."
This film is planned for release sometime next year, so would you take the time to watch it or just laugh your way to Netflix and watch something else.
Category: Film