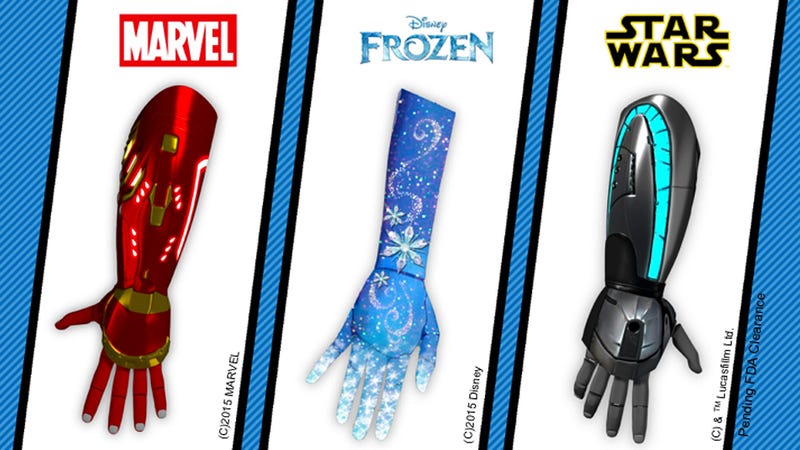 Every day, the internet produces an astounding amount of goodies and gems. Most hilarious, some amusing, but all worth at least a few seconds of your time. We here at Nerd Bastards try to bring you the best bits of news and nerdery the webz has to offer, with a bit of snark thrown in. But sometimes not everything makes the cut. Every Wednesday and Saturday (mid week/end of week) we'll be bringing you our inbox leftovers, our forgotten bookmarks, the nerdy bits that simply slipped through the cracks. You can submit items to Nerdy Bits by emailing us at nerdybits@nerdbastards.com.
ABOVE: Open Bionics and Disney are joining together to make superhero prosthetic hands for kids. [Gizmodo] 
Star Trek messenger bags from ThinkGeek.
Mimi Reaves and Remy Lee cosplay as Hilda and Ash from Pokémon. [GeekxGirls]
This is what Amazonian princesses wear in the winter. [SuperheroStuff]
Instead of wondering 'Where's Waldo?,' you can start asking 'Where's Wookie?' [Gizmodo]
Irregular Choice shoes have a huge cult following in the geek community, mostly because their shoes are incredible out there and awesome. The company is releasing a Star Wars themed line that includes shoes like the ones pictured above. [Photo via @pmsnowraven]
Jedi class ring from ThinkGeek.
Etsy seller Cromaleon makes this incredible Tetris storage seating. [Geeks Are Sexy]
Stunning Nightmare Before Christmas tattoo by Richardartistguy. [Fashionably Geek]
D.C. and Mattel are releasing a line of superhero toys called Superhero Girls and they're doing something groundbreaking (and by 'groundbreaking,' I mean 'using common sense'). They asked actual fans what they wanted their female superheroes to look like.  [Gizmodo]
RedLetterMedia mashes up James Spader's character from The Office, Robert California, with Spader's Ultron.
The DIY Prop Shop shows you how to make your own flux capacitor.
Allen Pan hilariously pranks people with Thor's hammer. [Dorkly]
Ever wondered what The Walking Dead trailer would be like set to the Friends theme song? Neither have I. [Laughing Squid]
What if Family Guy's Stewie was "The Boy Who Lived?" [Geeks Are Sexy]
NASA released new imagery of Jupiter from the Hubble telescope.
This is a DIY zombie containment unit that Roy Mueller built with kits from Hi-Rez Designs. [Geekologie]
And Now T-Shirt You Gotta Buy Today! (click 'em to buy 'em)
Category: Nerd Culture