We've all been there.  Christmas morning, shredded wrapping paper litters the floor around you.  Your fingers throbbing from paper cuts while you stare at the pile of presents in front of you as that last trickle of Christmas excitement sweat rolls down your back.  Socks, Underwear, a box of betamax movies bought at a yard sale by your aunt because, "You like movies," ten non-consecutive issues of Rom-Spaceknight, and a wall calendar that features "Cats throughout history."
While the flux-capacitor hasn't been perfected and we can't help you fix any past Christmases, maybe we can help you get this Christmas off to a good start. Each week, from now until X-Mas eve, will offer up a nerdy wish-list.
Here's the two pronged plan of attack.
1.  Print out copies of this list and place it around the house where your relatives will find it and reset your parents internet homepage to this list.
2. Read, memorize, and work into everyday conversations the items listed below.
This week is dedicated to the time and space traveling hero of the universe…Doctor Who.

Item: The Doctor who Ride-In Dalek
All right, one, this might the single coolest inflatable invention ever. It's a Dalek you can drive. And two, kid, why are looking at me so creepily? You're freakin' me out. The Doctor Who Ride-In Dalek is available over at Think Geek, but, here's the sad news, it's for riders 65 lbs and under. But come on, who out there is going to cram their fat ass into this Dalek? ::raises hand::
Where to Buy: ThinkGeek
Item: River Song's Journel
You can have your very own Tardis journal, just like River Song's! You can use it to keep safe all your spoilers, umm, like, what you had for breakfast last week. Can't let that leak out, it could alter the time-space continuum!
Where to Buy: Entertainment Earth
Item: Doctor Who "The Flesh" Goo Pod
Doctor Who flesh bits…creepy. Okay kids, let's pick through all the slimy fleshy goo to find the severed limbs of the Doctor!
Where to Buy: Bigbadtoystore
Item: 1:6 Doctor Who Collector Figure
Everyone wants to have their own little raggedy Doctor, and while there are plenty of pint size plastic play things resembling the time/space traveling  lunatic, none compare to 1:6 scale of Matt Smith as the Eleventh Doctor from BigChiefStudios
The Eleventh Doctor comes with…
• Sonic Screwdriver (Closed)
• Sonic Screwdriver (Open)
• Wallet with Psychic Paper (not real psychic paper)
• Nano Recorder Gun
• Lash-up Device
• Time Lord Consciousness Cube
• The Doctor's Invitation with Envelope
• TARDIS Door Sign Fragment
• The Doctor's Handkerchief
• Wristwatch
And if that doesn't impress you enough, look at his clothing, he actually gets a pair of fabric socks and suspenders to match this Doctor's signature look… and signature looks are cool.
Where to Buy: Sorry, it's not available yet. Yea… I shouldn't have teased you, but I couldn't pass up mentioning this awesomeness. Check www.facebook.com/BigChiefStudiosLimited for updates on release.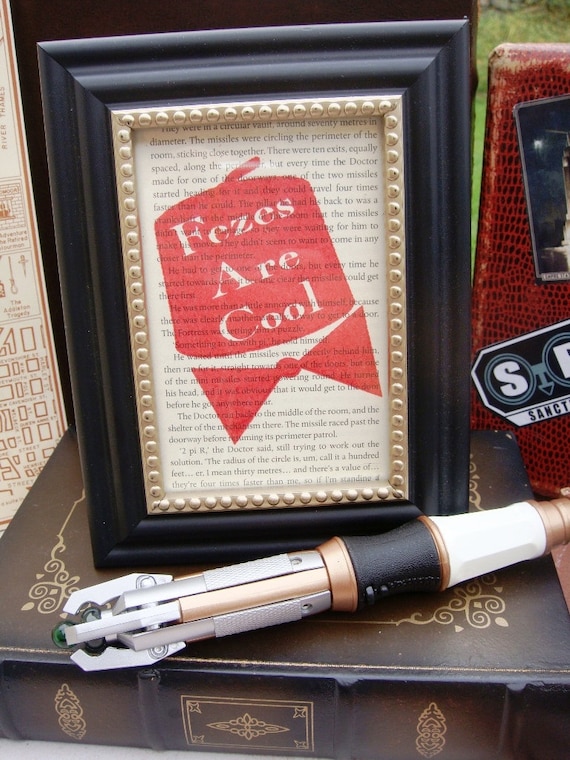 Item: "Fez's Are Cool" Page Print
River Song: Right then. I have questions, but number one is this – what in the name of sanity have you got on your head?
The Doctor: It's a fez. I wear a fez now. Fezes are cool.
What can I say – I think Fezes are cool and so is Doctor Who!
This is a Gocco printed screen print on a page of a Doctor Who novel. This one has a Fez and a Bowtie and it says that Fezes are cool. It looks great framed and will make a perfect gift any Whovian to sit on his or her desk at work while they daydream about a madman with a blue box!
The listing is for 1 page/print only – frame not included. The page itself is 7 inches tall by 4.5 inches wide. It trims down perfectl
Where to Buy: Etsy
Item: Doctor Who: Eleventh Doctor and Amy Pond Alarm Clock
So it makes sense that Doctor Who would have it's own clock considering he is the Time Lord. What I really like about this clock has do to with the design of it. It has that weird retro-style shape to it and it kind of looks like it belongs inside the TARDIS. Also, the picture has Amy Pond in a skirt. That should be more than enough reason to buy it.
Where to buy: Entertainment Earth
Item: Doctor Who: Tenth Doctor's TARDIS Zipper Robe
This six foot tall TARDIS is perfect if you want to decorate your house with your very own police box. It packs flat and when assembled, it looks just like the Tenth Doctor's TARDIS. Not only is it for looks, but for it's function as well. You can store your geeky tees inside this zipper robe closet. I would just buy it so I can sit in it if I'm bored.
Where to buy: Big Bad Toy Store
Item: Beaded 4th Doctor Scarf
A charming bead necklace made to resemble the 4th Doctor's scarf, or the perfect accessory for your kitten's Tom Baker costume.
This was created by España Sheriff, who discusses at LiveJournal how she made it:
I used 15/0 Toho rounds, and had a heck of a time finding good color matches (the blue in particular I ended up lucking out with some random beads a friend gave me) which ended up meaning I used a combination of matte, metallic and transparent finishes. As it turns out that worked better by adding a little sparkle but not too much.All in all I am pleased with the result, it took longer than I had anticipated (15-20 solid hours) and I had to cheat and join several sections which compromised the structural integrity of the end result, but I have a belt loom on the way so I can recreate the whole thing properly now that I know it works.
Sounds like a project for only the most experienced crafters.
Where to buy: DIY
Item: TARDIS socks
Speaking of DIY, the pattern to knit a pair TARDIS socks yourself is available for free (Google Docs), though we wish the BBC would just sell something similar ready-made for the rest of us.
Where to Buy: DIY
Item: Doctor Who: Pandorica Action Figure and CD Set
Now, this is pretty awesome. This awesome six piece action figure set comes with six different actions figures including the Eleventh Doctor, Amy Pond, Angel Bob, and more. Each figure comes with a special MP3 DC audio-book and if you get all six, you can complete three complete Doctor Who stories. What's even cooler is that the CDs and the cases can combine to create your very own "Pandorica"! I think this has some of the coolest Doctor Who figures and the Pandorica is a great touch.
Where to buy: Big Bad Toy Store
Item: Doctor Who: Adipose Stress
Good gawd this is damn cute. Based on the cute short white aliens made of human body fat in "Partners in Crime", these little Adipose plushes doubles as a stress toy in which you can squeeze and beat the stress away to relax yourself. Standing at 4 ½ inches, these Adipose will continue on smiling no matter how much anger you unleash on it. I wonder if that would make you more mad?
Where to buy: Entertainment Earth
Item: TARDIS Lunch Box
Shaped like the top third of the TARDIS, this lunch box may in fact be bigger on the inside. We could certainly fit a lot of lunch food in it. Whether your Whovian is heading to the board room or the classroom, they'll love to carry their lunch in this classic meal lunch box.
Where to Buy: ThinkGeek
Item: Doctor Who: Dalek Cufflinks
EXTERMINATE… in style! These awesome cufflinks are really snazzy especially with a tux. These Daleks are based on the first designs released when Doctor Who came back to the small screen back in 2005. I do like the retro style of these Daleks and they do look very fancy as cufflinks. I think this is the greatest way to add a little "geek" to your wardrobe, especially when it comes to suits. These cufflinks are handmade and available for $30.00 for the pair!
Where to buy: Etsy
Item: Doctor Who: TARDIS Police Box Hoodie
The design is very simple, but oddly very cool to look at. It' is obvious that the "Police Box" sign comes from the TARDIS, but the design is subtle enough that only fans of the Doc would get the joke. Printed on a cobalt blue hoodie, which is the same color as the TARDIS, you can distinguish yourself from the rest of the Doctor Who fans at conventions with a unique hoodie. Sometimes, being a little different is not a bad thing. You can pick yours up for only $34!
Where to buy: Etsy
Doctor Who 11th Doctor Diecast Sonic Screwdriver…Screwdriver
Ready to handle a Time Lord's tool? Oh, that sounded inappropriate. I'm referring to Doctors Sonic Screw Driver perv. Seriously, this is a Doctor inspired product list. How can we not suggests the Doctor infamous handheld device? While I could sound off yet another diecast prop replica that does nothing accept be a collectible, I prefer to suggest something useful. Something that has the beauty of a collectible with a very realistic twist. *clears throat* The diecast (yes diecast) Sonic Screwdriver that functions as a real screw driver! Three tips are included for large, medium, and small screws, with each tip reversible for Phillips or flat-head ends. The Diecast Sonic Screwdriver may not save the universe, but it'll definitely keep your world in order. Yours for a mere $19.99
Where to buy: ThinkGeek
TARDIS DOOR SKIN
Buying a full size replica of the TARDIS will set you back a couple thousand. Building one? Possible, but who has the time (no pun intended)? A much more affordable option is Doctor Who-inspired TARDIS door skin by Fantasy Factor. Kit is shipped prepainted as shown and includes themed door panel, door trim cover and decal stickers kit. All for $200 plus shipping.

Where to buy: Fantasy Factor
BUT WAIT, THERE'S MORE…
Doctor Who Tees

Hide Your Arms has assembled a Doctor Who t-shirt round-up of Gallifreyan proportions. This badass compilation has 119 (yes, you read that right…119) examples of wearable Time Lord greatness, including retro Doctors (lots of Tom Baker shirts here) and mash-ups with the likes of Scooby-Doo, Stargate and Star Wars. Here's a gallery of 11 (11 Doctors. 11 Shirts) of the best examples. I must have the Tom Baker "I Deny This Reality" shirt.
That is it for this week! Until the next installment of "Nerd Bastard Holiday Shopping Guide".
Category: Featured, Nerd Culture