Every day the internet produces an astounding amount of goodies and gems. Most hilarious, some amusing, but all worth at least a few seconds of your time. We here at Nerd Bastards try to bring you the best bits of news and nerdery the webz has to offer, with a bit of snark thrown in. But sometimes not everything makes the cut.
Monday through Friday we'll be bringing you our inbox leftovers, our forgotten bookmarks, the nerdy bits that simply slipped through the cracks. You can submit items to Nerdy Bits by emailing us at nerdybits@nerdbastards.com.
Phoenix Wright is known primarily as an ace attorney, but this hand of the law has no quarrel for fisticuffs when it comes to Ultimate Marvel vs. Capcom 3. Phoenix's specials include throwing evidence and shouting at opponents, but his hyper combos are where things get really absurd. He can summon a judge to slam down the hammer of justice and deliver a brutal closing argument ending in his trademark "take that!"
Source: Topless Robot
DeviantArt's Mohamed Raoof is just one of the many Angry Birds fans, but it was he, who woke up one day and started thinking, 'What if Angry Birds birds were real?' Check out his Deviant Art page for his conceptualization of all the Angry Birds (speedy, scatter, bomb, egg laying, the mighty eagle), but be sure so make 'squeeeeeeeee' sound effects while you look at them.
Source: Technabob
A minimalistic Doctor Who Tattoo. Because tattoos are cool.
Source: FashionablyGeek
Speaking of Doctor Who… here's a compilation video of every Doctor Who regeneration. Regena…what? Dude, seriously? *shakes head in shame*. On those rare occasions when the time/space traveling Doctor dies, he regenerates into a new form, often with a new personality.
I love how as The Doctor gets older and older, his regenerations get younger and younger.
Source: Neatorama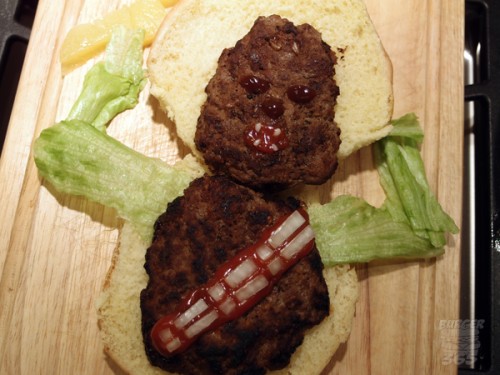 This Chewburger by Charlton Yu looks a little over cooked, I bet it's a little chewie. I'll be here all week folks.
Source: That's Nerdalicious!
We've seen plenty of pics of Henry Cavill in full (but red underwear-less) kryptonian garb in Zach Snyder's 'Man of Steel'. This time, though, he's shirtless. I dunno what this scene entails, but from what I can see, he hasn't used his heat vision from a mirror to shave his face for some time. Perhaps he lost his powers? Oh, and what the hell is that around his neck?
I'm a guy who's only ever been interested in women. That being said, these pics have made question my sexuality.*fart*
Source: Crave Online
Reserve your specious hate for Ewoks, this ones cute!
Source: SoGeekChic
There's These Amazing Shadows, a documentary about the National Film Registry. I hear it's not great, but not terrible. In a deleted scene from the doc, presented above, 'Dark Knight' director Christopher Nolan talks about his love of Star Wars. As you can imagine, he's so eloquent and articulate when expressing his thoughts on film. Nolan. Why so serious?
Source: SlashFilm

This absolutely stunning Corpse Bride Cake was made by Verusca Walker. I'm gonna go eat some cake and cry at how un-talented I am. I am forever alone…
Source: Verusca Walker
CollegeHumor's Overheard At Real Steel: All the funny banter mocking the movie, without wasting time seeing the movie. I too have wondered about the possible sentience of vein in Hugh Jackman's forehead.
Source: College Humor
Category: Comics, Film, Nerd Culture, TV, Videogames, WTF?