Every week the internet produces an astounding amount of goodies and gems. Most hilarious, some amusing, but all worth at least a few seconds of your time. We here at Nerd Bastards try to bring you the best bits of news and nerdery the webz has to offer, with a bit of snark thrown in. But sometimes not everything makes the cut.
Every Monday we'll be bringing you our inbox leftovers, our forgotten bookmarks, the nerdy bits that simply slipped through the cracks. You can submit items to Nerdy Bits by emailing us at nerdybits@nerdbastards.com.
This week's edition: Ghostbusters imagined in Pixar, first teaser poster for Brave, Soviet war memorial vandalized with super heroes, Hoth Tauntauns, Damian misses DickBatman, Han's hangover, puppy plays Bowser, $10,000 Space Invaders watch, Star Wars lawn fertilizer, sexy N64 controller tattoo, epic Lego recreation of Sauron's tower, Lens Flare: The Movie, the Bat has landed, Tardis observatory, Rebecca Black's 'Friday' in 8-bit, Harley Quinn's new costume on a man, Super Mario Bros. car, E.T. vs Predator, Darth Vader riding a pony cake, sappy nerd proposal, Contra's henchmen's strategy, Vulcan oven mitt, original 150 Pokemon according to my boyfriend, Lord of the Rigs, Yoda pasties, women react to Duke Nukem Forever, Dalek dress, Doctor Who flesh bits, ducks the original Transformers, all inclusive bathroom signs, 10 biggest flops illustrated, Weird Al's 'Perform this Way.'
See the whole Ghostbusters crew imagined as the stars of the next Pixar feature. Can this collaboration really happen? An animated feature would fare better than the long rumored Ghostbusters 3. For more check out artist, Fabrizio Fioretti. (GeekTyrant)
A Soviet war memorial vandalized in Bulgaria. As you can see, it was now Superman, Captain America, the Joker, Santa Claus and Ronald McDonald who led the liberation. (Geekologie)
Looks like the Winterfell Direwolves are in for some steep competition this year. (FashionablyGeek)
With Dick Grayson returning to his Nightwing persona, no one will miss DickBatman as much as his littler brother, Damian. Read these hilariously adorable letters to a Bat-Brother at Comics Alliance.
Han's bachelor party was outrageous! Can't wait to see the roll of film this night produced. Like where the fuck'd they get an Ewok? (FashionablyGeek)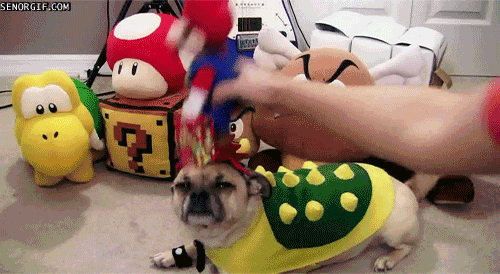 You just wait until your back in turned, human. This pug is gonna maul you, then steal your princess! (Neatorama)
You got an extra $10, 000 lying around? 'Course you do, go pick up this official Space Invaders watch. Each one incorporates steel from the Apollo 11 capsule. for realz! (TDW:Geek)
You know, when your lawn is being especially resistant of the Dark Side. (GeeksareSexy)
Sorry, you'll never meet this girl. But keep dreaming of that tattoo on her thigh. (FashionablyGeek)
You've watched the Lords of the Rings trilogy how many times? Really? And then you found the time to create this epic Lego recreation of Sauron's tower, when? (Geekologie)
Do you think you can handle learning the truth about lens flare? (TheMarySue)
The Bat has landed. (TheMarySue)
In a way, a telescope is bigger on the inside, too. (TDW:Geeks)
Because Rebecca Black's 'Friday' was screaming to become an 8-bit adventure game. (YouTube)
Now that we're not transfixed by boobs can we all agree on how ridiculous Harley Quinn's new costume is? (TheMarySue)
Uh, E.T.? I'm not sure if you're glowy finger is really gonna work in this situation. (FashionablyGeek)
Best. Cake. Ever. Plus! It has my name on it. (TDW:Geek)
This is one sappy little webcomic. But it's nerdy. (abstrusegoose.com)
The brilliant strategies of Contra's henchmen, explained. (Dorkly)
Because it is not logical for one to burn oneself on a pan of brownies. (Meninos)
Honestly, these names created by a guy who had no clue what these Pokemon were are waaaaay better than their actual names. Herpderp, I choose you! (TDW:Geeks)
Meet this badass, the Lord of the Rigs. (NerdApproved)
Coming to a burlesque show near you, Yoda pasties! Cover your indecency, he will. (Obvious Winner)
Woman react to Duke Nukem Forever. Ugh, what an offensive game. (Dorkly)
Check out her Dalek bumps. Eh? Eh? But seriously, learn how to make and awesome Dalek dress at Instructables.
Doctor Who flesh bits…creepy. Okay kids, let's pick through all the slimy fleshy goo to find the severed limbs of the Doctor! (Bigbadtoystore)
Ewwww. Always think about where you're parking your Tardis. Ask yourself important questions, like, could my Tardis be mistaken for a Porta-potty (HijinksEnsue)

Don't you just hate it when your car is replaced by a life-size Lego replica? Gah, I do! Happens all the freakin' time! (Nerdist)
Ducks, the original Transformers. (Imgur)
This would make for an very interesting experience at the urinal, wouldn't it guys? (NerdApproved)
Can you name all ten of the biggest flops illustrated here? (io9)
You thought Gaga's original video for 'Born this Way' was strange? Check out Weird Al's 'Perform this Way.' (TDW)
Uh, what?! (Haydiroket)
Category: Cosplay, Film, Nerd Culture, TV, Videogames, WTF?