When it comes to comic book creators, you can't get much better than Stan "The Man" Lee. Even people who have never read a single comic book in their life know who he is: he's the guy who makes a cameo in every single film in the MCU. There's a reason for that and it has everything to do with the simple fact that he created or co-created almost every Marvel character people recognize today. Whether we are talking about your friendly neighborhood Spider-Man, a giant green rage monster, or an alcoholic who flies around town in an iron suit, Stan Lee had something to do with creating them. 
With so many achievements under his belt, it's no wonder Lee is a regular at comic book conventions. For decades, Lee has been showing up to meet and greet the fans while signing autographs and showing off his Marvel know-how. As time progressed, this paragon of Marvel Comics has, of course, gotten older, but it doesn't seem as if his staff… and even many of the fans are accepting of his age. As of this article, Stan Lee is 95 years old, which is certainly an amazing achievement on it's own, but Lee isn't afforded the comfy chair most people his age would appreciate for their daily activities. Instead, Lee is ferried about from convention to convention to meet fans and sign autographs, but it's taking a toll.
Back in early 2018, Lee was diagnosed with pneumonia, which can be fatal for anyone his age. Since that time, he has been under the care of multiple parties and allegations of elder abuse have been thrown around. This is a serious concern given Lee's relationships and the nature of his estate. Being that he is 95, his estate (estimated between $50-70 million) is on the minds of his friends and family. Tragically, Lee lost his wife in July, 2017 and his daughter, J.C. and he have a tenuous relationship, which has led to a number of issues between the two. Whether the situation is related to his care or the management of his estate, the interactions he has had with her over the past few months has raised more than a few eyebrows.
In 2012, it was reported that J.C. reacted violently to her mother and father by physically assaulting them. At that time, Lee threatened to cut off his daughter financially and it's her financial issues that remain a problem and a concern. Lee has stated that she regularly charges between $20-40,000 per month on her credit cards and he is concerned she will become homeless after he passes. This has led to the creation of a trust, but recent changes to his entourage and legal team have landed control of that trust directly into J.C.'s hands. People close to Lee have expressed concern in both his financial estate and his licensing rights to his various Marvel characters. Bradley J. Herman, his former business manager said, "I'm on the verge of tears," he says, "because it breaks my heart to see somebody that I love being effectively held prisoner. He finds himself in need of a superhero himself."
Many fans have seen the recent news regarding Lee as being someone who is being taken advantage of and it's not a stretch when you examine what has been happening. A recent revelation regarding the theft and use of the man's blood has raised some concerns:
Others have expressed concerns over his continuous appearances at conventions. One fan, Mark Ayao, expressed his frustration and concern when he went to see his comic book idol to get a comic book signed:
Went to the local comicon over the weekend and got Stan Lee to sign my Iron Man #1. It was bittersweet, he's not in very good condition as many, if not all of us know. There were literally thousands of people waiting for his autograph and photo ops throughout the Saturday event.
First of all, he missed the 1st signing session at 10:00am due to circumstances unknown. They then told us to come back at 1:00pm. Finally around 1:45 I got in the room where he was signing and they only allowed him to use a black sharpie, and you could not tell his handlers where he should sign.
Was disappointed since my book cover is mainly dark and was hoping for a choice of a gold or silver pen. They said it was black sharpie day, which is the lamest thing I've heard. But by the time I got my book to be signed, one of the main handlers said he had to take a nap right then and there in his chair while several of us in the curtained room watched for about 30 minutes. I thought I was in a episode of Seinfeld. It is sad to see him in that shape, someone must be forcing him to do those signings at the age of 95.

He still had another photo op and a signing later in the day, I wonder if he made it though all these thousands of people. Sorry for my rant…. 
Oyao's concerns are not unique to his own experience as many fans have noted the 95 year old's difficulty in meeting fans at conventions. With all the negative attention being brought to Lee's medical condition and the nature in which he is being cared, we can only hope someone steps in and makes sure he is getting the care and treatment he deserves. He may be the creator of some of our favorite characters, a World War II veteran, and a really nice guy, but at the end of the day, he deserves to be treated like any one of us and given the respect and care a man of his age requires.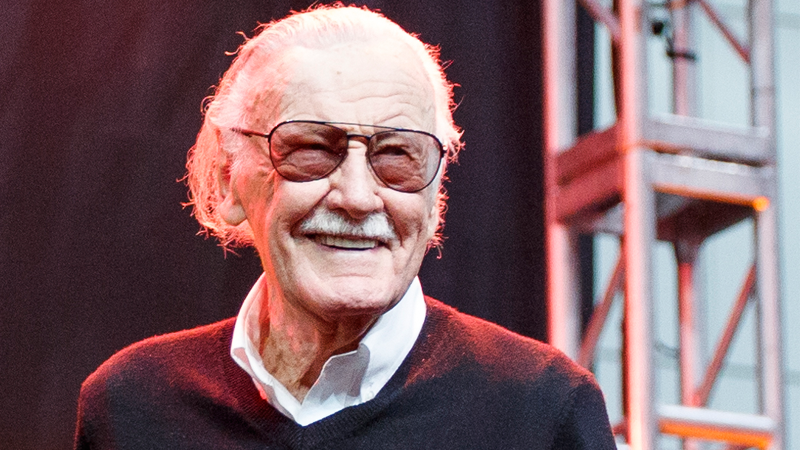 Source: The Hollywood Reporter
Category: Comics